Man whatever.
YA WANT SOME ART?
YA WANT IT TO GIFT SOMEONE FOR CHRISTMAS???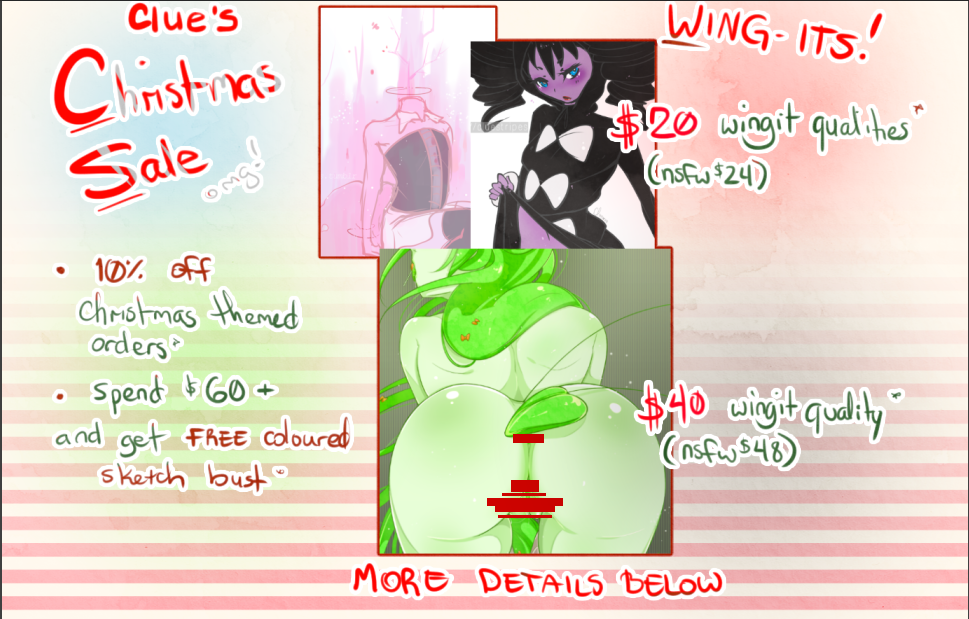 here you go. regular commission options are open, but there's some nice sales and options for the season.



[LOOK AT THIS TOS N PRICING OR I'LL SLAP YA BOOTY.]




The 10% off is applied to final price (ie, after NSFW tax and whatever else if applicable)




Whether or not it's "$60" is also after additions.




A wing-it is where you give me your reference and I do whatever. Get one of these at your own risk. You've no say other than NSFW or SFW, unless I ask something.


-- 20 - "lazy wingit"
-- 40 - "p good wingit"



Barter and dA points are not applicable for the sale parts, but you may still do them.




YOU MUST LET ME KNOW IF IT'S FOR CHRISTMAS SO I CAN MAKE SURE THEY GET DONE IN TIME.




I'M GONNA TRY THE 'FILL THIS FORM OUT' METHOD, SO HERE WE GO.



When you contact me (dA/fA notes preferred cos sometimes i forget to check email) fill this shit out.
Username and site it's on or whatever:
The type of commission and its style (ie, waist up, soft colour; full body, cell shade; lazy/p good wingit):
NSFW/SFW:
VISUAL references (two or three is good):
3 words to describe charcter personality:
Any details I need to know! (theme, outfit, pose, kink etc - NA for wingit):
Is this for Christmas?:
If yes, do you want me to hold off posting it?:


Dunno how many slots, and not replying asap on a first come, first serve basis. If I get too many, I will pick some out. If I really like your order, I may reply asap tho.